Pablo Elvira pagina/site
CD: Tributo a Pablo Elvira
Elvira, Lara, Barasorda, Vizoso y la música de Guillermo Venegas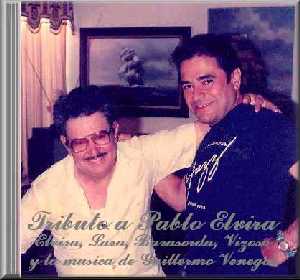 Order by mail
GVL Inc. tine el placer de annunciar la introducción de este historico disco compacto: TRIBUTO A PABLO ELVIRA. Es un tributo al gran baritono de la Metropolitan Opera, de quien Placido Domingo dijo: "Por mucho el mejor baritono del mundo."

Este disco compacto incluye 14 caciones cantada por Pablo Elvira, dos canciones por el gran Tito Lara, y una por el gran tenor de la Metropolitan Opera, Antonio Barasorda. Ha tres obras instrumentales en orquesta dirigida por Mandy Vizoso. Estas 20 canciones son todas de Guillermo Venegas Lloveras. Este disco, en duración, equivale a dos discos compactos normales. Es la primera vez que estas canciones estan disponible en una disco distribuido internacionalmente.o en forma de disco compacto.

Es increible, pero hasta ahora Pablo Elvira solemente podia ser escuchado en grabaciones de operas completas, en papel estelar en conjunto con Domingo, Sutherland, Moffo, Kraus y otros. Es por eso que este disco compacto es historico y de interes para los amantes de opera, conocedores de música y coleccionistas que quierene escuchar a Pablo Elvira, en toda su gloria, solo.
---

GVL Inc. is pleased to announce the release of a historic CD: TRIBUTO A PABLO ELVIRA as a tribute to the great Metropolitan Opera baritone, that was said to be "By far the greatest baritone in the world." by Placido Domingo.

This recording includes fourteen songs sung by Pablo Elvira, two songs sung by that other great singer, Tito Lara, one song by leading Metropolitan Opera tenor, Antonio Barasorda and three instrumental works by symphonic orchestra conducted by Mandy Vizoso. These twenty songs, an incredibly beautifull selection, are all compositions of Guillermo Venegas Lloveras, and is the equivalent of two standard CD's. It is the first time that all these songs are available in an internationally distributed recording or in CD format.

Incredibly as it may seem, Pablo Elvira, up to now, could only be heard in the many recordings of full operas he recorded, where he sings leading roles along with Domingo, Sutherland, Moffo, Kraus and others. This fact alone makes this CD a historic one, of particular interest to opera lovers and music connoisseurs and collectors who want to hear Pablo Elvira, in all his glory, by himself.
Canciones en disco / Songs in CD:

Requiem Para Un Artista-Orquesta Mandy Vizoso
De Pie-Pablo Elvira
Duerme Corazón-Pablo Elvira
Este Amor-Pablo Elvira
La Tonadita-Pablo Elvira
Luna-Pablo Elvira
Para Siempre-Pablo Elvira
Por Que Te Vas-Pablo Elvira
Puerto Rico-Pablo Elvira
Que Dulce Es Tu Amor-Pablo Elvira
Serenata Temprana-Pablo Elvira
Toca Gitano Asi-Pablo Elvira-Bienvenido Hernandez
Maria-Antonio Barasorda
Wanda Concierto-Tito Lara
Vals De La Victoria-Orquesta Mandy Vizoso
Cisne Azul-Orquesta Mandy Vizoso

---

Licencia de Radio: El CD incluya una licencia para la radio, valida en cualquier parte del mundo. La unica condición es que se anuncie el nombre del compositor y el artista. No es necesario licencia adicional o pago alguno por esta licencia.

Radio license: The CD includes a license for radio broadcasting valid in any place in the world. The only condition is that the names of the composer and the artist be announced. No additional license or payments are required for this license.


---